Welcome to the Algarve
We believe that the Algarve is one of the world's most attractive and congenial holiday destinations. Few areas are over-developed and the coastline, with its golden beaches, is simply magical - mile after mile of it remains completely unspoilt. Just a few miles inland you are in a time warp - the roads, are greatly improved but otherwise life is much as it has been for centuries.

Nature puts on a magnificent show all year round, with unique Mediterranean plants and trees ensuring that the landscape is green throughout the year. Many birds spend winter or summer here - and many others pass through on migration routes.
Live the dream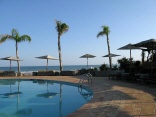 The Algarve is an ideal location to own your own home in the sun.
Whether it is for lazy family holidays, as an investment or for permanent sunshine living, anyone thinking of buying a prperty abroad should give serious consideration to the Algarve. The climate is one of the healthiest and most pleasant in the world, comparable to California. There is sufficient seasonal variation to make the weather anything but boring, but winters are never too cold and the summers never too hot. The skies are predominantly blue all year round.
Projects